SUCCESS STORIES OF CAMDEN COLLECTIVE
Luke Whittaker, Founder of State of Play
"Since joining Collective as an independent videogames company and expanding our team, some of the work we've produced has won a BAFTA, an Apple design award, and our latest game KAMI 2 was nominated for a BAFTA. Collective offers us the perfect place; a creative space in a great London location at an affordable rate which has allowed us to hire more London based talent, to take more creative risks with a focus on creating the best work possible. The energy of the building is infectious and coming into work is a pleasure."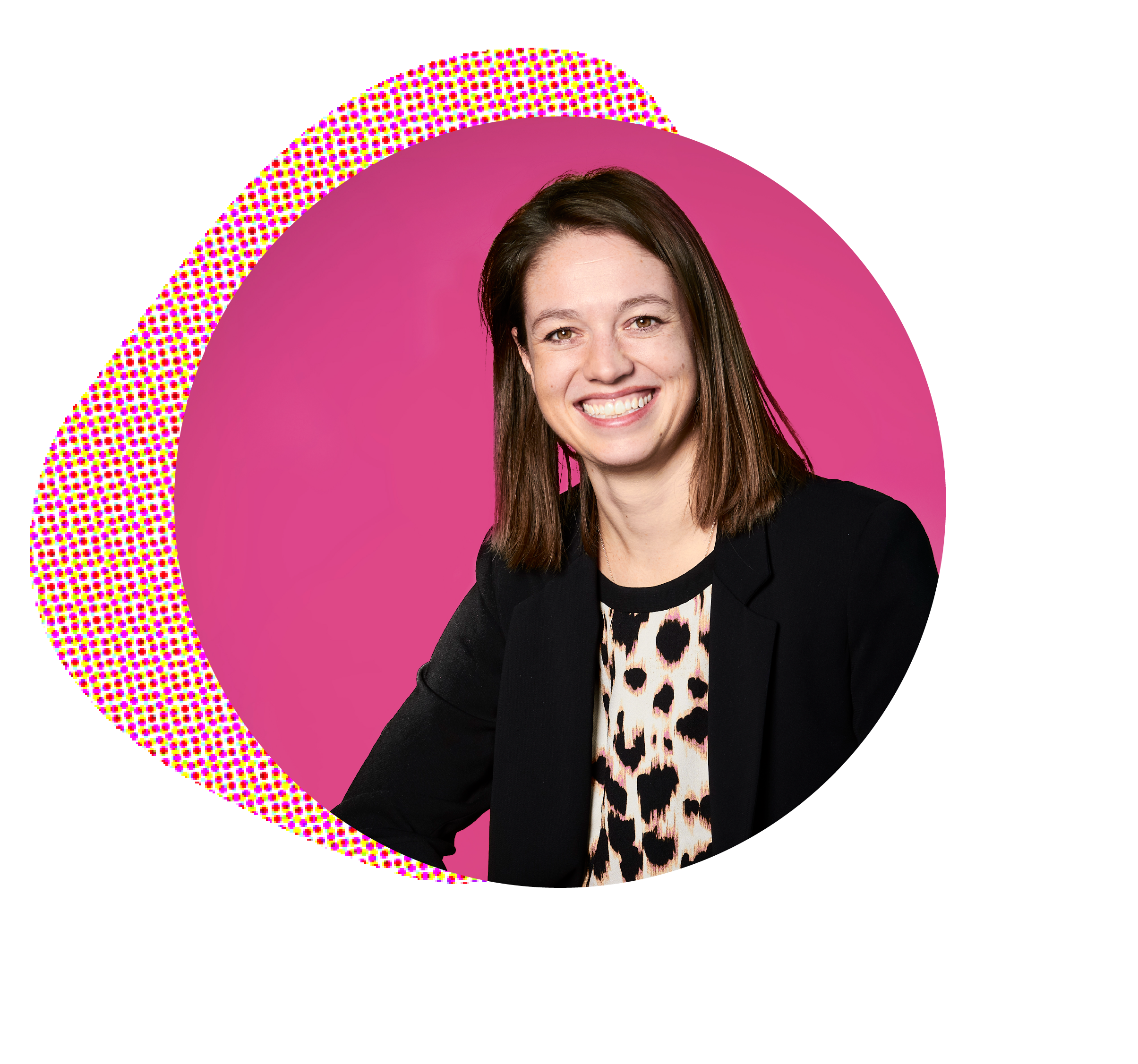 Harriot Pleydell-Bouverie, Founder of Mallow and Marsh
"We love the Collective Auction Rooms! Since establishing ourselves at their Temperance branch 3 years ago, Mallow and Marsh has grown from a small, neatly packaged foodie start-up of 5 to a now 15-person team of passionate marshmallow makers - and we're still growing! We couldn't have done all this without the support of the amazing community at Collective Auction Rooms. Affordable and flexible, Collective have not only been supportive in accommodating our rapid growth in numbers but also instrumental in our overall success. We've become close to a number of other members working in the same industry as well as working with other talents in the building - our fantastic new website was designed by a great company we met downstairs! The location's perfect - we love how we're able to make the space our own. And what's more, they host a rocking Christmas party!"
Marine Tanguy, Founder and CEO of MTArt
"Founded in 2015, MTArt Agency is an award-winning agency for the world's most exciting up and coming visual artists. On average, MTArt artists have seen their works grow 150% in value year-on-year while signed to the agency, while MTArt itself made a profit in 2018.
Collective was MTArt's first home. I still can't comprehend why more spaces like this do not exist in London. It has given me the confidence to strive, the community to network and do so while relieving me from office costs to support more employees and my artists financially. My job is to invest in people and Collective invested in us, I believe that investing in people has the highest returns if executed well. I will always be here to support Collective and I want to see many more projects like this in the future!"
Jamal Edwards, Founder of SB.TV
"My first office was in the Camden Collective in Mornington Crescent, because before I started SBTV, I would always meet in coffee shops and those sorts of places. Then I found Collective – that's what helped me start my business as I was supported from all angles and was able to establish a base so that people would take me seriously. I think if they had spots like this in each borough, it would be a great help."
"The Camden Collective played a huge part in supporting the growth of Tala in it's early stages. We initially started by running the business from one of our garages, but Collective was able to provide a low-cost base for the company and a friendly collaborative environment, where we were able to meet and network with several like-minded creatives, small businesses and young entrepreneurs. Tala has grown exponentially since then and now has 60 employees globally, 50 of which are based at Tala Studios, our new global headquarters based in the heart of East London."
Kerstin Robinson, Co-founder of Nix and Kix
"Myself and Julia Kessler founded Nix and Kix back in 2014 because we were tired of non-alcoholic choices available in pubs and bars and wanted a less sugary yet still tasty alternative. Nix and Kix has now grown to a brand that is nationally available in Tesco, Waitrose, Wagamamma, Giraffe and Cabana.
For the first years we worked out of hotel lobbies but once we started hiring people we needed a more permanent base. Camden Collective was a perfect hub for them because of the location but also that community that included a number of food and drink businesses as well as being a much more affordable than most workspaces in central London."
Laline Sudlow,
Co-founder of Bolter Design
"The studio address at Camden Collective adds credibility to our existence – and this was only made possible by the affordable rates on offer. Furthermore, being a part of the community was, and continues to be, highly beneficial. Firstly, other businesses act as a sounding board. Secondly, we have done exciting project for – and with – other Collective organisations. Finally, business related challenges are made quicker and less costly to resolve when surrounded by other businesses who have been in the same situations as us."
Anneke Short, co-founder of Camden Watch Company
"Collective has played a huge part in helping our business become what it is today. We first started by using the open-plan workspace as a base for our design studio. It was a great place to work with a fantastic sense of community, but it's when we decided to launch our own brand, The Camden Watch Company, that Collective really came into its own.
Through Collective, we were offered £10k interest free loan to help us launch, we had access to pop-ups on Camden High Street that we used on numerous occasions (all free of charge), we rented our first private office (in the 'Temperance Hospital' space), and we met some really great people, some of whom we continue to work with to this day.
Even now after having left Collective, we still make the most of the network, having recently run an event with a Collective-based business and currently being in the process of finalising a collaboration with a charity based there too."
Alex Smith, Obama Foundation Fellow, Founder and CEO of North London Cares and The Cares Family
"When we started out on our Collective journey in early 2013, there was just one working person at North London Cares. When we doubled to two people, we needed a base.
Since then, our organisation has changed dramatically – as we've added South London Cares, Manchester Cares and Liverpool Cares and across those changing cities we now have 28 members of staff helping thousands of older and younger people to connect.
Amid all that change one thing has remained; Collective has been more than an office, I's been a home. From monthly induction evenings to fundraising nights to photography clubs, Collective has been a resource and a network that we couldn't have done without."
Anne Marie Imafidon MBE, Stemettes
"We joined Collective back in 2015, when we were based at 37 Camden High Street, and later on we moved into Temperance. I started Stemettes because of a problem I noticed in the industry; a drastically sinking number of women in these technical professions. We started in 2013, and our aim has been to inspire the next generation of females into Science, Technology, Engineering and Mathematics roles via a series of events and opportunities, as well as showcasing role models in the industry. Since then, we've worked with 40,000 girls across the UK and Ireland and I received an MBE for my commitment to the cause.
Collective was really supportive right from the start firstly because of the location. We made lots of exciting partnerships where we were based. It was really handy because we had free rent at a time when we were trying to grow, which can be a huge expense. It allowed us to focus on what we were trying to do at a lower cost. On top of that, you could always ask other people for advice in the hub or go to a lunchtime special to expand your knowledge on topics you're unsure about."
Neil Whippey, Co-Founder of Eat Grub
"Eat Grub is a boundary-breaking new sustainable food brand that aims to revolutionise Western food culture by introducing insects as a staple part of it. Over the last couple of years, Eat Grub have grown from being a niche concept brand to one that's now available in major retail, with Sainsbury's being the first UK supermarket to stock edible insects in 250 of their stores.
It's vital to have a place to go to call work when you're starting out, and Collective has been a key part of the Eat Grub journey, starting with free hot-desking, to now having a small office in the Camden site. With a large number of other start-ups to bounce off, it's not just the low cost rent that's the benefit, but the opportunity to learn from others on the same journey."
Jonny Pryn, Co-founder of One Third Stories
"When we joined Camden Collective, we were a publishing company of two people who had yet to make a single book (or any money!) using the free hot-desking space. Now we're a team of six with our own office and 22 books published. By providing an affordable place to work in a great area, the Collective made us feel like a proper business and gave us somewhere to show off to potential hires and meet with our early-stage investors. We've also gotten advice about how to deal with being on Dragons' Den from the founder next door, hired a freelancer downstairs to design our pitch deck, and are currently having our website optimised by a company in the office below us. Every member you meet is working on something interesting so it's never difficult to find inspiration on even the greyest Monday morning."
Mo Mohamud, Founder of Clime-it Brothers
"Collective were a real help, right from the beginning. The initial phase of starting up a business is really difficult, but it was great being part of something like the Collective — we owe them a lot.
There were always talks at lunchtime in the hub space, and you learn a lot from that. It's made up of a whole range of businesses — tech start-ups, fashion, all different types. And I've done a few collaborations with other businesses that were part of the Collective. One example is Pause magazine — they invited us to an event where we sold a lot of clothes. Plus, we found connections to festivals that we trade at now."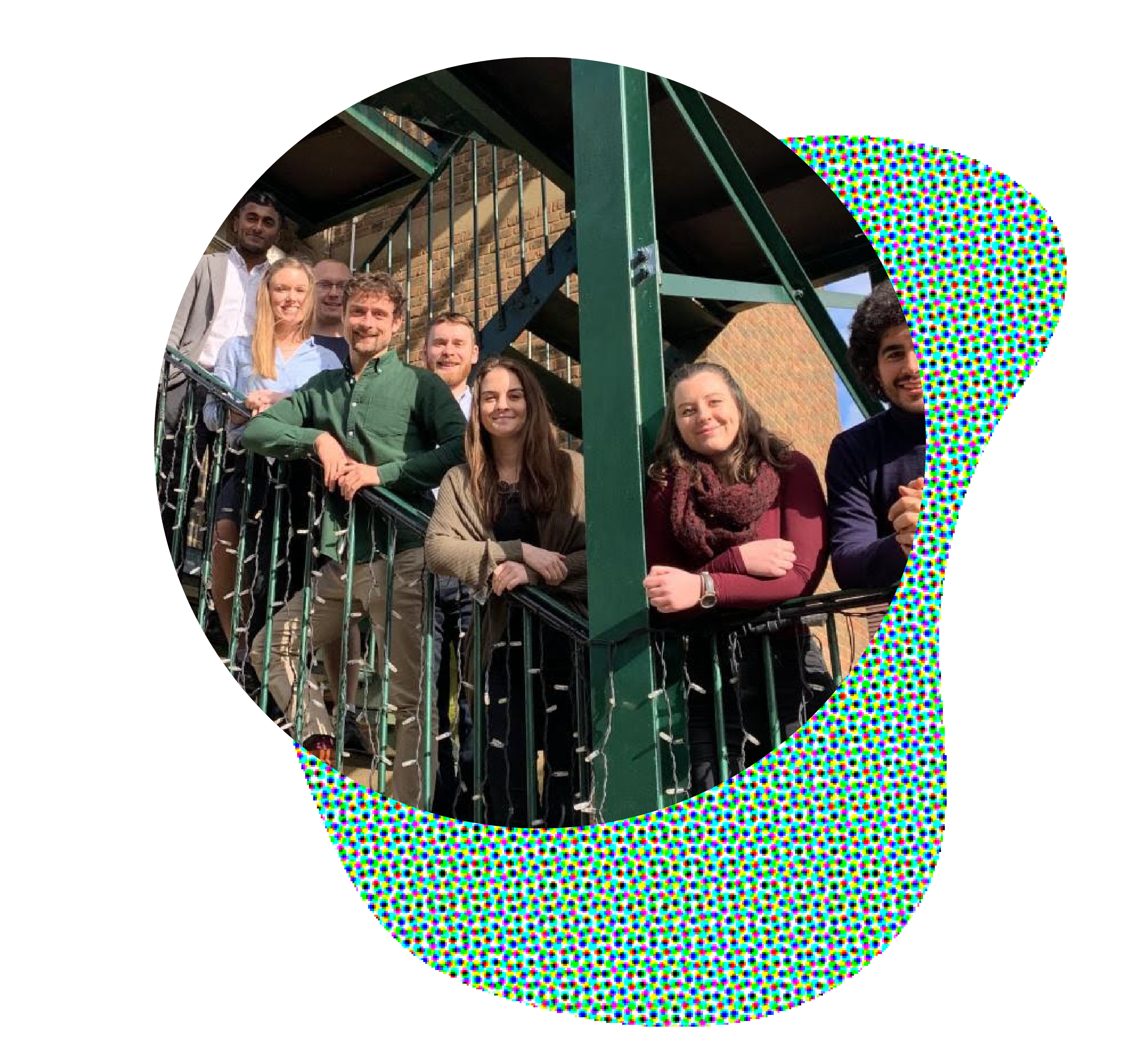 Jacob Haddad, Co-Founder, AccuRx
"We founded AccuRx back in 2016, and started out as a team of 2 at Temperance. Initially, we set out to develop a data-set and tools to help tackle the problem of inappropriate use of antibiotics. Since then, we pivoted to focus on developing a messaging service for doctor surgeries and have subsequently raised £8.8million in Series A funding.
Having affordable office space from the get-go has been invaluable. It allowed us to build a culture and work completely collaboratively on our products. We loved the socials (especially Christmas dinner!), the variety of other companies in the building, and the 'Collective' charm of the office."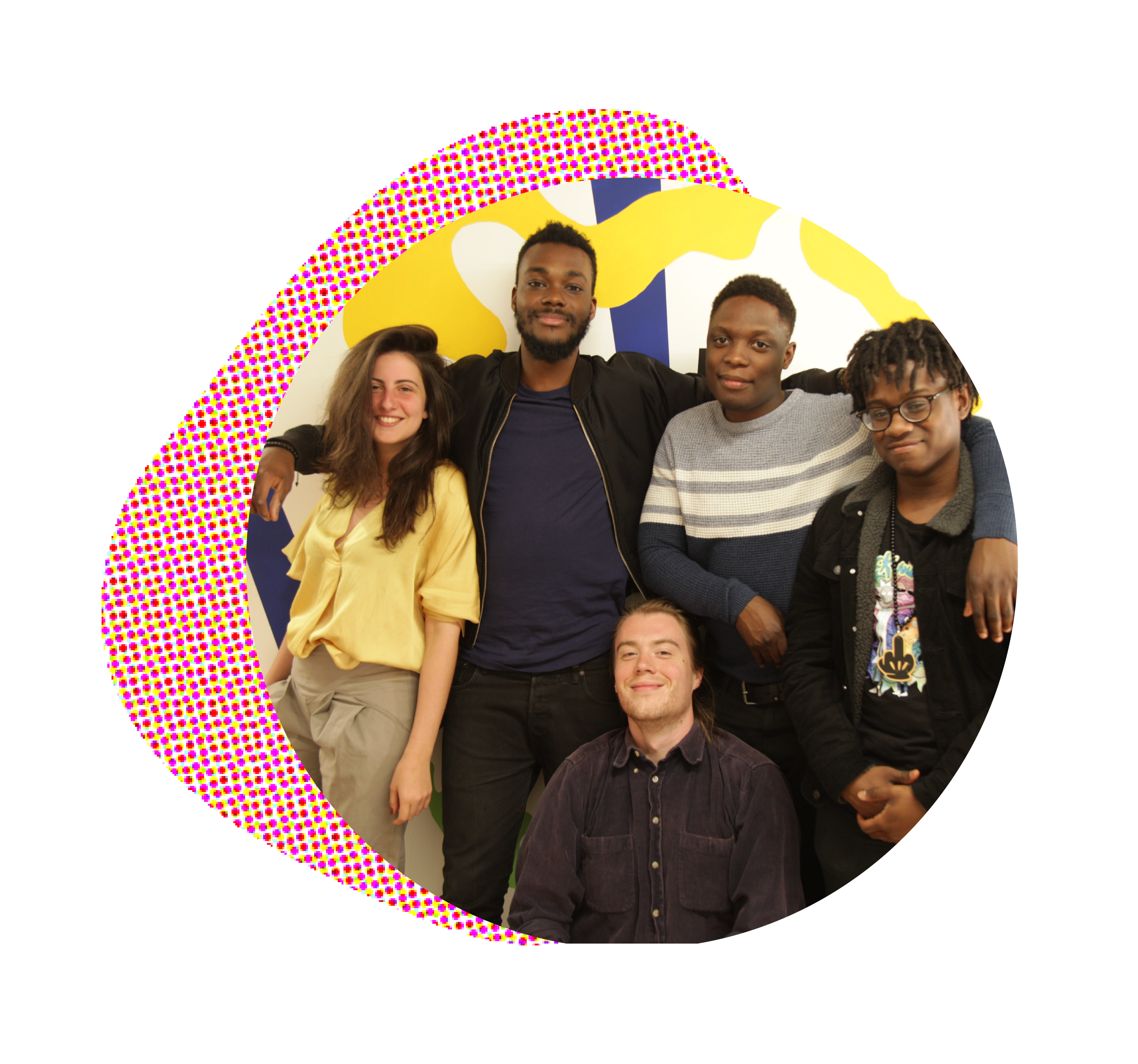 Ndubuisi Uchea, co-founder of Word on the Curb
"Having started the Word on the Curb YouTube channel at University in 2013, myself and Hayel went full time into the venture in mid 2017 and joined Camden Collective in December of that year. Since then, our team, which has now grown to 5, have achieved great success, unlocking a number of new clients and growing our online platform which is now award-winning and amasses over a million views a month.
We have also recently been awarded funding from the Mayor of London to embark on a new initiative called the Curb Collective. This initiative aims to help economically disadvantaged 16-24 year olds get opportunities to learn and network in the creative sphere. Camden Collective will help provide a supportive base and event space for a number of projects which will spawn from this initiative."